The Experience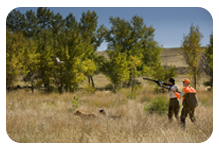 You will be hunting on the majestic confluence of the East and West Bijou Creeks.
The cover is native Colorado grassland, dry creek bottoms, and mature cottonwoods. The Bluffs are one hour from Denver and forty-five minutes from Denver International Airport.
Pheasants and Bob White Quail are native to this part of Colorado and thanks to aggressive land management and very careful species management we have successful hatches year after year. We also manage and sustain populations of Chukar and Hungarian Partridge.
Since we augment the bird population we are able to set more liberal bag limits than the state allows, and birds can be harvested without a hunting license.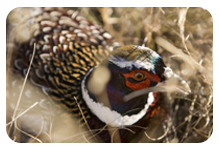 Here at The Bluffs, we encourage the parties to be four or less in the field but we can tailor many different hunting packages to suit your needs. Our capacity at the lodge is twelve hunters with individual beds.
We know the joy it brings to hunt behind a well trained bird dog. We know how much more gratifying it is when it is your dog. So feel free to bring your dog. Kennels are available for your dog's overnight accommodations.
So come and experience elite hunting, pristine surroundings, and first-class lodging at The Bluffs!
---
Russell, Dave, and Sue,
Thank you so much for the warm and generous hospitality yesterday.  It is easy to see why The Bluffs has such a great reputation.  The food was delicious, the conversation was enjoyable, informative, and educational.  The overall experience was second to none.  ~ 
---