The Lodge at The Bluffs

The Bluffs Lodge has been designed with country comfort in mind.

Your relaxation is at the top of our list. The lodge provides over 6,200 square feet of contemporary living and entertaining space. There are six bedrooms and four baths that can accommodate twelve comfortably.
Located on a remote acreage within the farm and cattle country east of Denver. You won't hear the traffic, just the pheasants calling you out to the field.

Sit by the fireplace in the living room or pull up a chair to the woodstove in the kitchen to boast about your expert shooting. Watch the game on our big screen TV or shoot a game of pool in the recreation room, complete with a wet bar.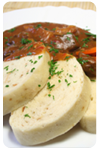 If you put in a full day of hunting, there's nothing like a home cooked meal to end the day, all of our meals are served family style and you won't go away hungry. The menu can be tailored to your specific needs for an additional fee.
Rates include dinner the night of arrival; breakfast the next day and lunch after you hunt. Private rooms are available when accommodations allow and non-hunting guests are welcome. For the comfort of all guests, no smoking or dogs, are allowed within the lodge.
Member and Member Guest Rates:
Double room with private or shared bath – $100.00 per person
Non-Member Rates:
Double room with shared bath – $125.00 per person
Double room with private bath – $150.00 per person
Transportation:
Transportation to and from the lodge and to the hunting property can be arranged, but must be arranged at least two days prior to arrival.
What To Bring:
For your safety and comfort, we suggest (*denotes required) you bring the following items:
Hunting glasses*
At least one clothing article of hunter orange*
Hunting boots
Wool socks
Weather appropriate hunting apparel
If you stay in the lodge, slippers
(the lodge policy is all shoes off but house shoes are allowed.)
Questions on Lodging or Other Accommodations?
Sue would be happy to assist you!
Lodge: 303 822 8479
Email: [email protected]