Annual Members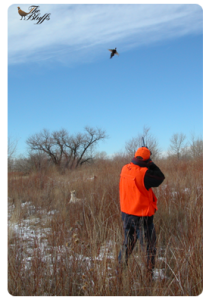 Different from any other Annual Membership hunt club in the area, our members only pay for the birds they shoot versus paying for birds to be put in the fields. Our members typically harvest a variety of birds including, Pheasant, Quail, Chukar and an occasional Hungarian during a 4 hour hunt. Depending on the conditions, it is not unusual to see over 100 birds during a hunt.
We are limiting our Annual Membership to seventy-five (75). Each Annual Member will pay annual dues of $2500 and a fee for each bird shot during their hunt. A minimum fee of $130 per gun will be charged for a hunt, which goes toward their shot bird costs reported at the end of the hunt.
Current Annual Members will be given a preference for membership renewal. Notice will be sent to them thirty days prior of each year, and will require response and payment of annual fee by one calendar year from sign up date if the member wishes to continue his membership. Annual members will have first right of refusal for available Charter membership slots.
Summary of Annual Membership:
$2500 Annual Dues
Complimentary continental breakfast and lunch served in the Club House
Free Valhalla membership for 1/2 day hunts and dog training fields
Bluffs hat and vest
Preference for charter memberships when available
Shot birds will be paid for at conclusion of the hunt as follows:
Pheasant/Huns: $30.00
Chukar: $25.00
Quail: $20.00
There will be a minimum hunt charge of $130.00 per gun that will apply towards the birds shot.
Download Membership Application Here
Please call 303 822 8479 to request an application.
Annual Memberships are priced at $2,500 and subject to availability
E-mail: [email protected]